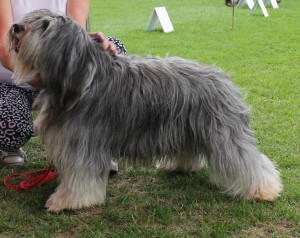 Black-silver, with naturally short tail, DA and PRA free N/N (genetically tested) OSTREWKA BACOWA z Banciarni FCI 
(F: Ch. Pl., DA, PRA free N/N, healthy heart  BAJER BACA z Banciarni FCI, M; 2 x CWC, DA ROMINA GAŹDZINA z Banciarni FCI) recived her Polish Champion tittle after a dog show in Nowy Targ. Descriptions she gets are mostly: 
proportional, medium-sized female with an elegant look and beautiful head. strong back, excellent upper and lower back line, good angulation, beautiful in movement and great ample perfect in type coat. From myself I want to add that Ostrewka has got strong, determined character, is courageous and always happy to play with other dogs; feels great in a herd and is always ready for new adventures.