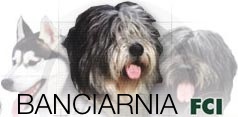 Welcome to Banciarnia
Polish Lowland Sheepdog
Cane da Pastore Bergamasco
Siberian Husky
Barbara Rayska-Świst ul. Pod Skałką 18, 34-433 Dursztyn tel: 601-48-54-53 e-mail:
basia@banciarnia.com
. HIT JUHAS Banciarnia FCI (S: Echo Juhas M: Fanaberia Tellus Mater) is one of the most successful PONs of Banciarnia; Inch,. Ch. Pl., SK., HU., A., CZ., and Croatia and many other titles in the Junior class, and Club Winner. Czech.