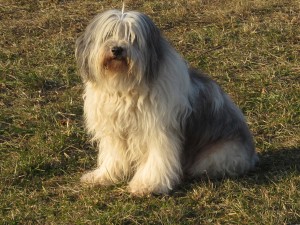 Living for almost 15 years with this clever, lovely, friendly and dedicated dog was a true pleasure and a joy.
In the past year Ch. Pl. res. CACIB, DA PYZA GÓRALKA z Banciarni FCI  (O: Ch. Pl., DA IWAN z Banciarni FCI M: Mł. Ch. Pl.., res. CACIB, DA MODRA z Banciarni FCI) – after death of her sister POLKA, started to get older much faster. Though she was never a trouble for us – always happy and smiling, she kept her own place in the center of our house – the kitchen.
She passed so quietly and beautifully that none of us sitting next to her realized that at first. She was just sleeping… i will never forget her cute smile on every occasion and her serenity, that not a single person could have learned from her.
All her kids were lovely and smart dogs. A lot of them is a show stars – enough to mention my 8 – year old CH.PL UWERURA GAZDZINA, 7 – years old BATUTA BACOWA, her brother CH.PL BAJER BACA, and their sister multichampion holding many BIS tittles in Australia – BAZIA BACOWA or beautiful Champion of Canada AKC ORAWA GAZDZINA.
Pyza – I will always love you!